Limited Edition Hydrating Hair Mask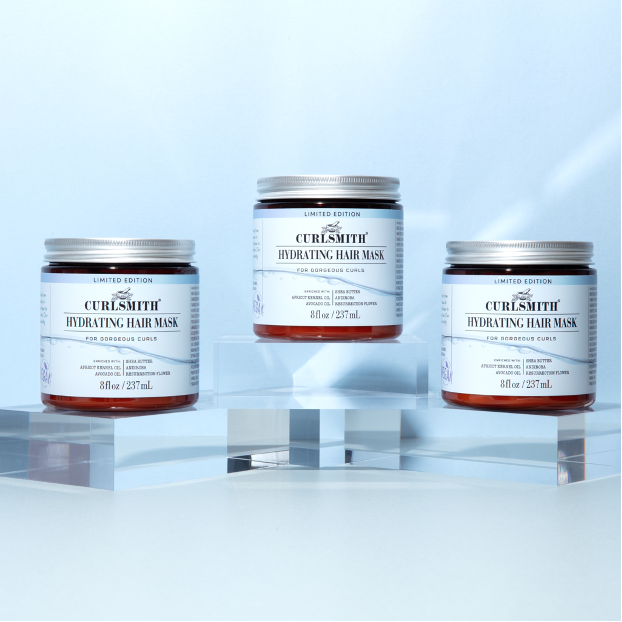 When caring for our curly hair, we know that routine is key, but did you know that when it comes to conditioning the hair, it's advised to replace your regular conditioner with a hair mask to deep condition once a week? Some may think that you should only consider deep conditioning when you have an issue with your hair, such as breakage or dehydration, when in fact, by incorporating it into your routine once a week will keep the hair hydrated, moisturised, and healthy.
Hair Mask vs Regular Conditioner
Hair Masks differ from regular rinse-out conditioners as they are richer and left on the hair for up to 30 minutes. The extra time allows the product to penetrate the hair shaft for a deep conditioning experience. As we know, curly hair is inherently dry as the natural oils, also known as the sebum, find it difficult to travel down the hair strands. This is because of the kinks and bends in curly hair; the curlier the hair, the drier the strands. Therefore it's crucial to incorporate deep conditioning to help your curls stay hydrated.
Various hair masks on the market are designed to target specific needs such as strengthening, moisturising, or colour protection. It's pretty easy to end up with several products in your hair care collection. But what if I told you that there is a multi use hair mask that delivers all three benefits? Drum roll, please! Curlsmith has just launched a new limited edition Hydrating Hair Mask that features an array of juicy ingredients catered towards strength, moisture, and colour protection and is suitable for all curl types. It almost sounds too good to be true, but I can assure you that it does what it says on the label. 
Now that we have discovered a new Hydration Hair Mask that will provide your curls with all that's needed to promote a crown of glory let's dive into three reasons why you need to add this to your Curlsmith collection.
1. Hydration
Hydration is a word that comes up a lot when talking about health. You may read about drinking plenty of water to stay hydrated, which refers to your body and hair. However, drinking water alone isn't enough to give your hair the hydration it needs. Therefore, you must add water to your curls as well as moisture using a product such as our Hydrating Hair Mask. The mask contains water and a host of moisturising ingredients that work in tandem to keep your curls hydrated, moisturised, and soft.
Key Ingredients
The key active ingredient in the Hydrating Hair Mask is a bioactive material derived from Crambe Seed Oil, a moisturising agent shown to help strengthen and protect your curls. In addition, it can contribute to preventing pigment loss, enabling colour protection. Other key ingredients to replenish the hair's moisture include a unique blend of sunflower oil, shea butter, avocado oil, apricot kernel oil, andiroba seed oil.
Donation To Charity
Curlsmith has a thriving partnership with The Hygiene Bank (UK) and Project Beauty Share (US). Both charities go above and beyond helping individuals and families that experience hygiene poverty. Food banks don't cover personal or home hygiene products, so their work is essential to help people stay clean, feel good, and to relieve the pressure of those experiencing poverty. Curlsmith's values align with the belief that everyone has the right to basic hygiene, including hair care products. For every jar sold of the Hydration Hair Mask, a donation of £1 and $1 is contributed to both charity partners. There will be just over 5k units, so over £5k and $5k for each charity will significantly impact families supported by the charities.
You now know why you need this amazing hair mask in your life, so let's get down to how to use it. 
How To Use
After the hair is cleansed, apply a generous amount of the Hydrating Hair Mask, work it through your lengths and ends, and gently detangle. The amount of product needed varies depending on your thickness and length. For regular use, let the conditioner sit for 1-2 mins. For a quick hydration boost, leave to penetrate for 10-15 mins, and for a deeper, nourishing treatment, leave for 30 minutes and then rinse. Follow with your chosen Curlsmith leave-in conditioner and styler.
The Perfect Hair Mask For All Curl Types
The Hydration Hair Mask features various conditioning agents to make your tresses soft, manageable, and easier to detangle. There's only one issue; it's a limited edition, so make sure you stock up while it's still available! If you require other products alongside the hair mask to assist with your wash day routine, take the curl quiz to receive your personalised recommendations today.