Introducing Essential Moisture Shampoo and Conditioner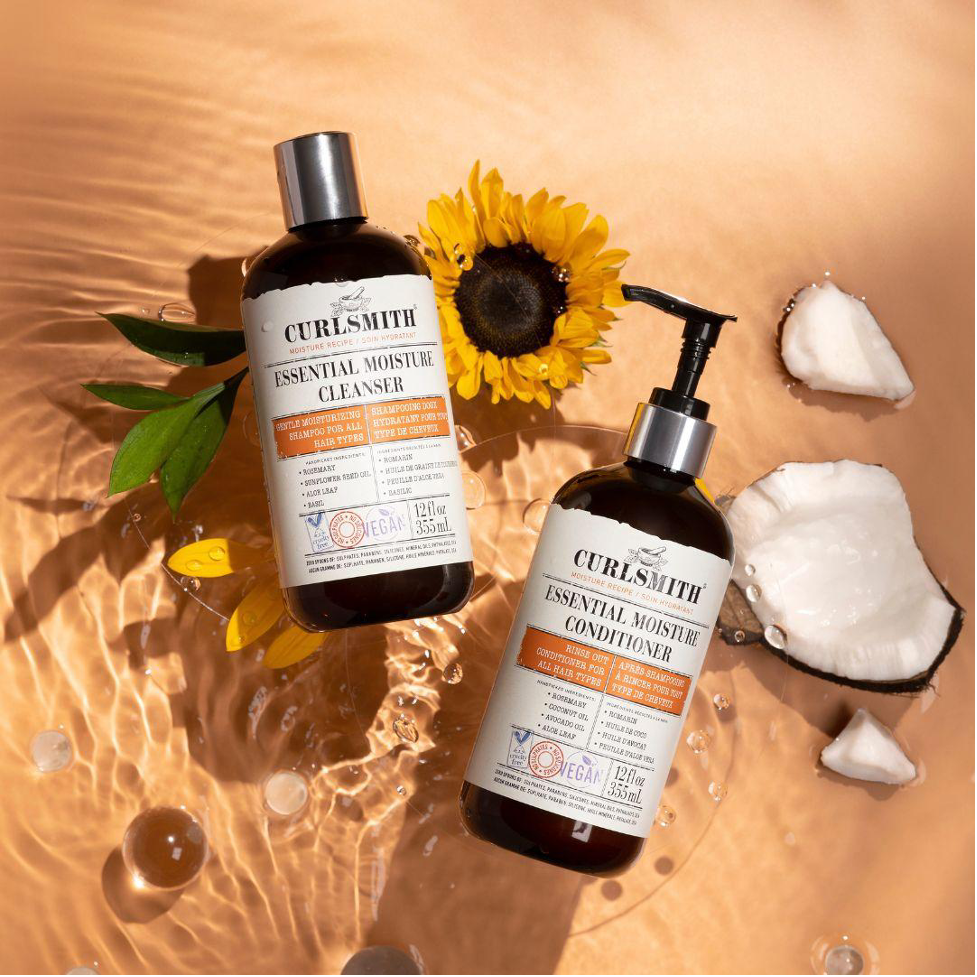 The new Essential Moisture Shampoo and Conditioner are the latest addition to the Curlsmith family. All hair types require hydration and moisture so be sure to revive those thirsty locks every wash day with the perfect pair.
I know you must have lots of questions about the duo, and rest assured, you're in the right place to learn about the benefits, key ingredients, and how to use them. But let's start with why curly hair needs hydration and moisture to thrive.
Importance of Hydration and Moisture
Whether you are new to embracing your curls or a long-standing curl friend, understanding the importance of adding hydration and moisture to your locks is crucial. The natural oils produced at the scalp, known as sebum, generally can't travel down the hair strands due to the shape. Therefore curly hair is naturally drier than straight hair. To avoid your curls becoming dry and brittle, which could lead to breakage, you must add hydration and moisture to your hair care routine. That's where our Essential Moisture Shampoo and Conditioner step in, right at the start of your wash day routine.
Now, let's take a closer look at the benefits that your locks will receive when using our Essential Moisture Shampoo and Conditioner.
Benefits of the Essential Moisture Shampoo and Conditioner
Both our shampoo and conditioner have amazing benefits; using them together in your wash day routine will guarantee the best results.
Benefit 1: Everyday shampoo to remove dirt and build-up from the scalp.
Benefit 2: Its foaming action ensures a thorough cleanse without stripping the hair of its natural oils.
Benefit 3: The conditioner's lightweight texture melts onto the strands and delivers the hydration and moisture that all curly hair craves.
Benefit 4: The creamy lather provides a slip for easy detangling while nourishing your thirsty locks.
Benefit 5:The shampoo and conditioner increase moisture by 87%* and provide long-lasting frizz control.
*Based on third party testing of Curlsmith Essential Moisture Cleanser & Conditioner vs a non-conditioning shampoo
Benefit 6: Suitable for all textures, porosities, hair types, even straight hair.
Benefit 7:Safe for color-treated tresses.
So many benefits all in one wash day; let's look at the ingredients that make this possible.



Essential Curl-Loving Ingredients
The new Essential Moisture Shampoo and Conditioner include food-inspired staple ingredients such as;
Betaine, an osmolyte extracted from sugar beet that naturally helps to moisturize and protect.

Avocado, coconut, sunflower oil, and Andiroba, an indigenous plant of the Amazon, known for their nourishing properties.
Shea butter to help lock in moisture.

Resurrection flower, a desert plant that survives up to three years without water; known for its moisture retention properties.

A blend of aloe, sage, rosemary, pepper, and basil extracts, known for their antioxidant properties.
All of these juicy ingredients can get a curl friend excited!! Keep reading to find out how to use the duo to get those curls poppin!
How to Use
The shampoo and conditioner are steps 1 and 2 in the Curlsmith four-step method for a successful wash day.
Step 1: Shampoo
Distribute a blob of shampoo into the palms of your hands and rub together. Then apply the shampoo to the scalp, and rub vigorously to break down the dirt and build up. Rinse and repeat.
Step 2: Condition
Section the hair and apply the conditioner to the mid-lengths and ends. Work through each section for even distribution and detangle with the tool of choice. Leave for 1-2 minutes and then rinse.
Our Essential Moisture shampoo and condition are suitable for frequent washes. However, for those who like to wash their hair more often, we advise alternating with our Curl Quenching Conditioning Co-Wash.
Essential Moisture Shampoo Vs. Curl Quenching Co-Wash
For those who don't know, a co-wash is 2 in 1 shampoo and conditioner that gently cleanses the hair. The difference between a co-wash and shampoo is that a co-wash cannot remove all dirt and build-up from the scalp as it's so mild. Therefore we do not recommend using this alone in your routine as you could experience build-up on the scalp that could lead to clogged follicles.
We advise interchanging with our Essential Moisture Shampoo and Conditioner to allow the dirt and build-up to be cleansed from the scalp while your tresses stay hydrated and moisturised. In addition, we still recommend that you clarify every 4-5 washes with our Detox Wash and Scrub.
Moisture is Key
There you have it, the complete breakdown of why every hair type would benefit from having the Essential Moisture Shampoo and Conditioner in their collection. You will need additional products to complete the Curlsmith four-step method for a successful wash day so take our curl quiz to receive your personalised recommendations.