Why Your Curly Hair is So Frizzy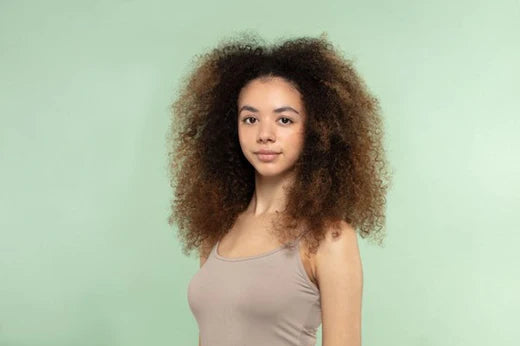 If you've been dealing with frizz for some time, you might have asked yourself why your hair is so frizzy? The truth about frizz is that all hair types (especially curly) are susceptible to it, so it can be helpful to know what it looks like. 
Frizzy hair is dry, unsmooth in appearance and in most cases, difficult to manage or style. It usually sticks out in sections of hair around your entire head and can be caused by a lack of moisture, split ends, humidity, using the wrong styling products and even touching your tresses too often. Our ultimate guide will tell you everything you need to know about why curly, wavy and coily hair types get frizzy and what you can do to prevent it.
Why Your Curly Hair is So Frizzy
Why is my curly hair so frizzy?
How to reduce frizz in curly hair
How to prevent frizz in curly hair
Why is my wavy hair so frizzy?
Not using the right tools and products
How to reduce frizz in wavy hair
Difficult to get oils down the hair shaft
How to reduce frizz in coily hair
Using quality moisturising products
Using styling products with hold to prevent flyaways
Why is my hair so frizzy?
There are a number of things that cause frizz, so identifying the root of the issue will help reduce it and prevent it from reappearing in the future. 
Some styling products
When it comes to choosing the right styling products for your hair's needs, you'll need to be mindful of how your hair responds to certain products. Using stylers that haven't been formulated with your hair's specific needs in mind can make it difficult to control frizz. Silicone is an ingredient to avoid because while they protect hair from frizz on the surface, it can make it worse over time.
Humidity 
While the first thing you might want to do when the weather gets a little warmer is spend as much time in the sun as possible, this can actually do your hair more harm than good because hair reacts to humidity by frizzing. Damaged hair is a lot more prone to frizz because it is more porous.
Lack of moisture
Hair that is lacking moisture (and protein) can be dry in appearance. Moisturizing your hair on a regular basis is essential for good hair health. There is such a thing as hair having too much moisture, so the right balance is needed to avoid it becoming soft and weighed down.
Heat styling 
Styling tools are a great way to give your hair a new look but using them frequently can cause hair damage. The best thing you can do to prevent frizzy curls and coils is to use a heat protector or serum and limit your usage of styling tools, especially if your hair is damaged.
Overwashing your hair
The general rule for how often you should wash your hair has changed over the past few years, but the truth is that it should not be washed everyday because it will be stripped of the natural oils it needs to be healthy. How often you wash your hair will largely depend on its type and specific needs. Product build-up, a difference in texture and dandruff are all signs that you need to wash your hair.
Towel-drying
How you dry your hair can have an impact on its health, which is why it should be dried gently to avoid frizz. Instead of rubbing your hair dry, squeeze the water out of your hair instead. Our Microfiber Towel absorbs excess water from curls and waves without leaving them frizzy and dull. It's also been designed with a flat surface that is much kinder to your tresses.
Why is my curly hair so frizzy? 
If you've ever wondered why your curly hair is frizzy, then you're not alone. When dealing with frizz, it's important to use the products designed for curly hair that have been formulated with your hair's needs in mind. Curls can be frizzy for a number of reasons such as:
being drier than other hair types

being washed too frequently

a lack of moisture

humidity 
Being clued up on the best tips for caring for curly hair and the best products for curly hair will help you on your journey.
Drier than other hair types
Curly hair is dry because it has a harder time retaining moisture. Curly hair follicles have an oval shape, so the hair shaft grows a little differently than other hair types. Due to its zig-zag pattern, it's difficult for the scalp's natural oils to coat the strands from root to ends, leading to dryness, breakage and frizz. 
A lack of moisture
Curly hair needs moisture and protein to promote good hair health. Moisture keeps your hair hydrated and improves elasticity in the process. The key to identifying whether your hair needs moisture or protein lies in knowing your hair's porosity. 
Being washed too often
Curly hair can be washed less frequently due to the natural oils from the scalp taking longer to travel down the hair shaft. As a result, you can go longer between wash days without your hair looking greasy. Once you've washed your hair, diffuse your curls with the Defrizzion Dryer, which has an airflow that keeps frizz to the minimum.
Humidity Impact
Humidity is excess moisture in the air and it can wreak havoc on your curls by causing frizz. When the hair shaft takes on the excess moisture from the air, this causes individual strands of hair to break apart from their clumps, causing much-dreaded frizz.
How to reduce frizz in curly hair 
Deep condition your hair 
Deep conditioners add moisture back into the hair, drastically reducing frizzy curly hair in the process. A nourishing deep conditioner like Our Double Cream Deep Quencher is created with those who have ultra-dry and dull hair in mind. It delivers intense moisture without weighing hair down, leaving curls completely transformed. Frizzy hair could be a sign of hair damage and our Multi-tasking Conditioner is the ultimate product for preventing or combating breakage for all curl types. It can be used as a deep conditioner, rinse-out conditioner or a leave-in conditioner.
Lock in moisture  
Curlsmith provides a wide range of the best curly hair products. Our collections comprise a variety of curly hair products that can be used to add or lock in moisture to curly hair such as deep conditioner, hydrating curl cream and hair oil. Our Shine Oil is fragrance free and made of 100% naturally derived ingredients that lock in moisture to make curls soft and bouncy.
Clarify your hair
Clarifying your hair is a great curly hair tips because not only can it refresh your curls but it also promotes good scalp health. A clarifying shampoo removes all of the dirt and product build up that hair accumulates in between wash days, revealing softer and healthier hair. After completing your wash day routine, diffuse your curls to enhance your curl pattern and set the hair into place.
How to prevent frizz in curly hair 
To prevent frizz in curly hair, keeping your hair hydrated and moisturised is essential. You may also need to limit how many styling products you use as part of your hair care routine. While all hair types can benefit from using a sulfate-free shampoo, excessive washing can strip hair of its natural oils and ultimately cause frizz, so we don't recommend shampooing twice. After shampooing, styling products will need to be applied on wet hair to prevent frizz. Retaining moisture levels and using the right accessories during the day and at night can also help prevent the dryness and damage that leads to frizz. 
Why is my wavy hair so frizzy?
Drier than Type 1 hair 
Wavy hair is naturally drier than straight hair, making it prone to frizz. Anyone with wavy hair knows that fighting frizz is a constant battle but why is it more likely to get frizzy? In addition to dryness, a lack of moisture can also make wavy hair frizzy.
Washing too frequently
Wavy hair doesn't need to be washed as much as straight hair because it doesn't build up oil as quickly as straight hair does. Washing your hair too often will strip it of its natural oils and leave it feeling dull and dry. 
Not using the right tools and products
Finding the best wavy hair products to use as part of your hair care routine is essential. Any products you use should help keep your pattern in place.Wavy hair should be brushed with a wide-toothed comb to keep it tangle-free. Additionally, it should be brushed when hair is wet instead of dry to keep frizz at bay.
Touching your hair too much
While this can apply to all hair types, avoiding excess manipulation is a must if you have curly hair. Additionally, touching your waves too much on wash day can cause friction, leading to the separation of your natural curl pattern.
Using too much oil
Wavy hair doesn't require much oil, but if you want to add an oil to your routine, choose one that is lightweight. Lighter oils seal in moisture without weighing the hair down. 
How to reduce frizz in wavy hair 
Use a sulfate-free shampoo 
Anyone with wavy hair can benefit from using a sulfate-free shampoo as they can help tame frizz. Our Frizz Control Cleanser gently removes dirt and build up, nourishes the hair and tames frizz. Depending on the amount of buildup on your wavy hair, you might want to opt for the Wash & Scrub Detox Shampoo instead and follow up with the Post-Wash Calming Conditioner.
Don't use too many products
The key to reducing frizz in wavy hair is not to make the mistake of using too many products. Any products used should be lightweight in texture because using products that are too heavy can make wavy hair lose its shape. Our Frizz Control Duo Conditioner is a lightweight rinse out and leave-in conditioner that hydrates the hair without weighing it down. The anti knot detangling action 
Apply products on wet hair
Like most hair types, applying product to wavy hair when it's soaking wet will help it better absorb the product and define the waves. To avoid build-up, use one styling product in your routine to avoid buildup. The Frizz Rescue Curl Retainer is a great option for those who feel like gel weighs curls down leaving them looking flat. Once you've applied the product, you'll need to diffuse your hair.
Why is my coily hair frizzy?
Dryer than curly hair 
Coily hair is naturally very dry. Also known as Type 4 hair, it is the driest of all the hair types and is spongy in texture. It can be soft, fine, coarse or wiry and strands form very tight, small curls of zig-zags right from the scalp and are prone to major shrinkage which can lead to dryness. 
Difficult to get oils down the hair shaft

 
The zig-zag pattern of coily hair makes it difficult for natural oils to move down strands, which can lead to dry and brittle hair. As a result, coily hair is naturally fragile and more prone to breakage compared to other hair types.
Lack of moisturizing products
Anyone with coily hair should prioritize moisture retention and protection as part of their hair care routine. Coily hair needs extra moisture because it has the fewest cuticle layers to protect it from dryness.
How to reduce frizz in coily hair 
Using quality moisturizing products
Retaining moisture with the best coily hair products is essential. This can be done by following a method of using our Frizz Control Cleanser, a moisturising conditioning treatment such as our Double Cream Deep Quencher, and a leave conditioner like our  Oil In Cream. When it comes to styling the Frizz Rescue Curl Retainer layered with a strong  hold gel, such as  In Shower Style Fixer will keep that frizz at bay. Once the hair it 100% break the cast, add shine, and add that extra layer of protection against frizz with our Frizz Control Finishing Serum.
Don't brush your hair 
Coily hair is the most fragile of all the hair types so it needs to be handled with care to avoid breakage. On wash day, you'll need to detangle your hair while it's wet before diffusing your coils. Use our Bamboo Hair Pick for detangling curls and coils. Start from the ends of the hair and work your way up.
Cover your hair at night 
Coily hair needs to be protected while you sleep. Cotton sheets cause a lot of friction which leads to breakage and a lack of moisture and (you guessed it) frizz. Our vegan Satin Pillowcase protects your hair throughout the night, allowing you to wake up frizz-free. If you have coily hair and have a protective style, you'll still need to cover your hair at night. Alternatively, our Vegan Silk Scarf is silky soft and won't create any friction. Also, it's extra large in order to fit any hair length, so it can be tucked in securely without falling off. 
Various techniques to get rid of frizzy hair 
Hydrating hair products
Using the right tools
When applying heat to your hair, use our heat protection mist beforehand, distributing it evenly across your entire head. As for accessories, you'll need to keep your hair protected during the day (in a hot climate) and at night, especially if you have wavy or coily hair. All hair types can benefit from using a satin pillowcase or a silk scarf to keep your hair protected from frizz as you sleep. During the day, our soft satin scrunchies will protect your hair from frizz and reduce tangles and snags.
Using styling products with hold to prevent flyaways 
When applying styling products to get rid of frizzy hair, you'll need to apply a blob of product to the palm of your hand and rub both hands together to have an even film of product across both. If you are struggling with frizz due to a warm environment, use humid-resistant products like our Miracle Shield, a protein-rich mist that offers protection against heat, UV rays, sea water and chlorine. For additional protection against the effects of humidity, finish with our Flawless Finish Hairspray, which helps to build volume and offer high humidity protection. In addition to a weightless, non-sticky formula, it can hold curls for 24 hours* and is available in two strengths - flexible and strong hold.
Diffusing hair 
To minimize frizz, you'll need to hover the diffuser around your head. Before you begin, flip your head upside down and hover the diffuser around your head, without touching the curls. Start close to the roots and then proceed towards the lengths. Flip your hair in different directions to encourage movement. When almost dry, cup the hair into the diffuser bowl and scrunch close to the roots to make curls tighter.
Reduce frizz with Curlsmith
Curlsmith's mission is to bring curl confidence to everyone wanting to embrace their natural wavy, curly or coily hair. By now, you should have figured out why your straight, wavy or curly hair is so frizzy and what you can do to reduce frizz. Our high-quality, vegan and cruelty-free products are made with textured hair in mind and are packed with superfoods and free from ingredients that can be too harsh on curls. Our experienced team of experts are trusted authorities in hair care and on hand to help you achieve your healthiest hair yet with our frizz control products and styling products on your next wash day and beyond. If you want to find the perfect sustainable products to assist with this, take our curl quiz to receive personalised results.