Should You Change to Sulphate Free Shampoo?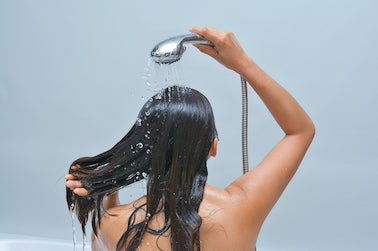 Sulphate free shampoo is an important product for those with curly hair. You may have noticed an expansion of the sulphate free products section, when doing your cosmetic shop, because they can be too harsh on certain hair types. Our guide shows you the benefits of choosing sulphate free shampoo. 
Table of Contents:
What Is Sulphate Free Shampoo?
Sulphate free shampoo is a type of shampoo for curly hair which doesn't contain chemicals known as sulphates. Sulphates can be too harsh on curly hair types, which is why it may benefit your tresses if you make the switch.
Sulphates are the active ingredients in lots of everyday care essentials, such as shampoo, detergents, washing up liquid, and toothpastes. The sulphates are responsible for the cleansing action and allow the product to foam. 
The most common types of sulphates include:
Sodium Lauryl Sulphate (SLS)

Sodium Laureth Ether Sulphate (SLES)

Ammonium Laureth Sulphate (ALS)
A sulphate free shampoo is made without using these chemicals. Despite sulphates being useful for the lathering effect and cleaning qualities, the best sulphate free shampoos will still be able to cleanse your curly hair without causing damage.
Are Sulphates Bad For Curly Hair?
Sulphate itself is not harmful and is safe to use. It is already being used in a wide variety of personal care items that we use on a daily basis such as body wash, as well as household staples. When it comes down to caring for our curls and maintaining our natural hair texture, we may wish to shy away from certain chemicals.
Whilst sulphates are an ally for deep cleansing, they can turn foe when applied to curls. The chemicals can be incredibly drying, being a cause of dry hair, as they have such a strong cleansing power. 
The chemicals can strip the hair of its natural oils and protein, leaving it unprotected and vulnerable to damage. The result is lifeless, brittle hair which could be extremely prone to hair breakage. As curly hair is already prone to dryness, avoiding ingredients that could make the hair even more dry is vital.
5 Benefits Of Sulphate Free Shampoo
If you are debating changing to a sulphate free shampoo, you'll want to understand what the benefits of sulphate free shampoos are before you take the plunge. As a premium haircare brand that focuses on curl-friendly ingredients, and producing sulphate free essentials, we explain all.
The benefits found by introducing sulphate free shampoo into your curly haircare routine include:
How to Switch to Sulphate Free Formulas
Before opting for a sulphate free shampoo we recommend identifying your hair porosity. Different porosity types respond differently to different products, so understanding your own will ensure you make the best decision. 
Those with

low porosity hair

, may find the transition to sulphate free slightly trickier than those with

medium porosity

and

high porosity

. 

This is because the cuticles in low porosity hair are more tightly packed together and so more sensitive to product build up. 

However, there are many effective sulphate free,

clarifying shampoos

, so as long as you remember to clarify every 4-5 washes, you can make the switch even if you have low porosity.
For more help identifying what your hair needs, and what you need to care for it, take our curl quiz.
The Best Sulphate Free Shampoos
After deciding whether sulphate free shampoo is right for your type of hair, you might be wondering what curly hair products to choose.
Wash & Scrub Detox Pro-Biotic Shampoo
Clarifying regularly is essential to remove dirt and build up, as well as creating a healthy scalp environment. By exfoliating it and removing build up you create the best environment for your hair follicles. 
This sulphate free shampoo teams up with supercharged pro-biotics, that are skin friendly and help to strengthen your scalp's protective barrier. 
Co-Wash
Co-washing your hair has lots of benefits to achieve healthy curls. It is a conditioner with a small amount of cleansing ingredients for a gentle cleanse and moisture boost.
Our

Curl Quenching Conditioning Wash

hydrates the hair, prevents the stripping of natural oils, and saves you time because it is a 2 in 1 shampoo and conditioner. 

For best results, we recommend using this sulphate free cleanser in the shower by massaging into the scalp, and smoothing the product through the ends. 

If you have time, leave the product on for three minutes to achieve optimum results.
How Do Sulphates Affect Your Hair Type?
Sulphate free shampoo might not be necessary for everyone, but we are here to break down whether your hair type may benefit from a swap.
Curly Hair
Curly hair tends to have a corkscrew pattern, or 'O' shaped curls. The formation of the curls make it difficult for the natural oils to travel down the shaft of the hair. Without the correct curly hair products, this can lead to hair becoming dry and brittle.
People with type 3 hair could benefit from using a sulphate free shampoo, around 2-3 times per week. Washing less often can help to contain as much of the natural oils as possible.
Coily Hair
As the most voluminous of the three, coily hair is defined by 'Z' shaped curls, or tight coils at the roots. Due to these tight coils, coily or type 4 hair is often the driest hair type. Similarly to curly hair, the natural oils find it very difficult to make their way down the hair and may need coily hair products. 
This is why those with coily hair could benefit from switching to a sulphate free shampoo, or even a co-wash, as you don't want to excessively remove those precious oils. When considering how often to wash your hair, you should really only be washing between 1-2 times per week.
Wavy Hair 
Wavy hair sits between straight and curly hair. Due to the curl pattern of wavy hair, the natural oils find it far easier to move down the hair shaft. For this reason, the hair is often the least dry out of the three main curly types. 
If you have wavy hair, you can still benefit from switching to a sulphate free shampoo as part of your wavy hair products. By promoting moisture in your locks, and not removing it unnecessarily, you could help to get rid of frizz. Just make sure to clarify every 4-5 washes, to thoroughly remove all dirt and build up.
Why Choose Gourmet Haircare from Curlsmith
We create curl-loving ranges and have collaborated with trichologists, curly hair stylists and beauty experts to create
leave-in conditioners
and
styling products
and more. We are proud to say our formulas of our
vegan hair products
are cruelty free, and free from parabens, sulphates, and silicones.