The Ultimate Guide to Wavy Hair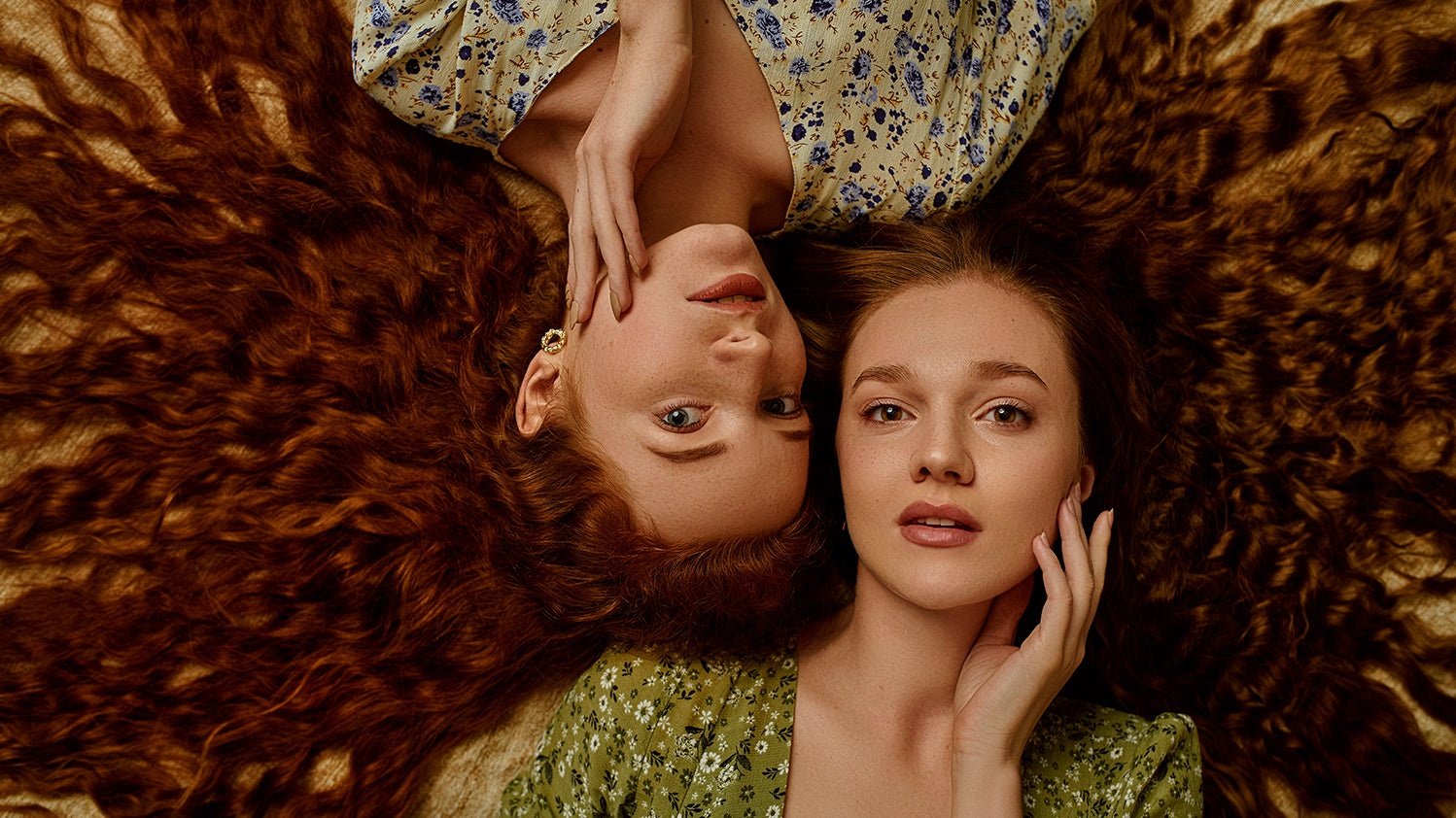 So you have wavy hair but aren't quite sure how to look after it. Don't worry; we've got you covered with all the knowledge you need to properly care for and get the most out of your locks. From identifying your wave pattern and characteristics to the perfect routine to make your waves pop every wash day.
Characteristics of Wavy Hair
Wavy hair, also known as type 2 hair, can be split into three different subtypes: 2A, 2B, and 2C. It is the hair type that sits in between straight and curly, from loose loops to 'S' shaped waves.
Curly hair on the other hand, has a more distinct curl pattern formation depending on the tightness of the curl. The pattern is generally seen as a tight 'O' shape or a corkscrew, which is what makes it different from wavy hair. Coily hair has the tightest curl pattern of the three, and can be seen either in a 'Z' shaped angle or tight coils starting at the root of the scalp.
The different wavy hair types each have their own characteristics that set them apart. 2A hair tends to have a tousled texture. 2B hair consists of 'S' shaped waves in the lengths, but sits relatively straight at the roots. 2C hair has even more defined 'S' shaped curls that start from the root and continue down the lengths of the hair.
Once you've identified you have wavy hair, you should also explore your hair's porosity. Depending on the porosity of your wavy hair, you will want to take care of it in different ways. There are three porosity types:
High Porosity: In high porosity hair, the cuticles of individual hairs are very open. This makes it extremely easy for moisture to enter the strand but also just as easy for it to leave.
Medium Porosity: The cuticles in medium porosity hair are slightly open; this makes it somewhat easy for moisture to enter the strand. But it won't leave as quickly as in high porosity. This makes this hair type the easiest to look after.
Low Porosity: The cuticles in low porosity hair are very tight; this makes it difficult for moisture to enter the strands. But once it does it is retained very well.
All of these porosities require different care, so identifying which one your wavy hair has is essential.
Type 2A Hair
2A hair has a very loose tousled texture. The wave is slightly accentuated and easily loses shape, becoming almost straight. For this type of wavy hair, it's important to use lightweight styling products that provide good hold to ensure the style lasts longer. You may want to avoid layering styling products to ensure you are not weighing the waves down.
Type 2B Hair
2B hair has a tighter S shape. The texture is still loose and easily weighed down, but it maintains its shape better than 2A. This curl type tends to react well to styling creams, but again we recommend only using one styler at a time to avoid weighing down wavy hair.
Type 2C Hair
Type 2C hair has a very tight S shape texture, and some strands may even start to become loose corkscrews when styled. Out of all the wavy hair types, this is the most prone to frizz, so it's important to combine both moisture and hold in the styling choice.
How to wash wavy hair?
Wavy hair is the least dry among the curl types, so it tends to develop more oil on the scalp and requires more frequent washing.
We recommend using a regular shampoo like our Essential Moisture Cleanser interchangeably with our Curl Quenching Conditioning Wash, as the gentler nature of the co-wash will help maintain the hair's natural moisture. You should also introduce a clarifying shampoo like our Wash & Scrub Detox in your routine every 4-5 washes to really get rid of all dirt and build-up that might weigh down your roots and make them look flatter.
And don't forget the conditioner! Moisture is super important for any curl type, including wavy hair, so always use a conditioning product every time you wash your hair. When it comes to deep conditioning, we recommend using a lighter formula that won't weigh down your hair: our Hydro Crème Soothing Mask is great for this. For hair that isn't as dry, you may choose to use this slightly less often, every other week should be enough.
Top tips for styling wavy hair
Knowing how to style your wavy hair is essential for getting the most from your curls. With the right knowledge and products, you'll have the hair of your dream in no time!
Don't layer too many products; use a lightweight leave-in conditioner like our 

Weightless Air dry Cream.

Wavy hair is easily weighed down and can lose shape quickly, so try to use only one styler in your routine to avoid build-up. The 

Hydro Style Flexi Jelly

 is a great option for medium hold without compromising on volume or 

Bouncy Strength Volume Foam

 for volume and a light hold.

Apply your styling products with your head upside down to get more volume into your wavy hair.

Apply your products on soaking-wet hair. This will help disperse the product and make it lighter, so it won't weigh down your texture

Scrunch, scrunch, and scrunch again. Scrunching encourages wavy hair to spring up, so it's the best way to enhance loose textures.

Plop your wavy hair in a towel before drying to encourage wave formation.

Diffuse your waves

 using the pixie method to create a tighter pattern and more volume.
To get the most from your wavy hair, it needs to be in its best condition. Having an optimal protein moisture balance will also help with achieving the best results possible.
How to protect wavy hair in between washes
If you want to make sure your waves last until the next wash, it is very important to protect them when you sleep. To encourage the texture to spring up, we recommend sleeping with a satin scarf or a small bonnet that will keep the waves "scrunched" during the night. This will allow you to wake up with perfect, bouncy wavy hair!
How to refresh & enhance wavy hair
Wavy hair has a looser curl pattern that tends to lose its shape quite quickly, so you may find that you need to refresh your hair more often in order to maintain the style until the next wash. We recommend refreshing a little daily to ensure your waves stay bouncy and defined. Here are our top refreshing tips:
Lightly spray your hair with a 

water mist 

and refresh using very little product. 

Light textures like liquid gel or mousse work best, avoiding weighing your hair down. Spray some water on your hands and emulsify your product of choice to make it even lighter.

Use a scrunching motion to apply your stylers to encourage waves to spring back up.

Diffuse

 for a few minutes using the pixie method to encourage bouncy and volume throughout your waves.
Shop for all your wavy haircare products to assist with all of your needs!
About Curlsmith
Ensuring we never test on animals, Curlsmith is dedicated to using clean, natural ingredients in all our products. Working in collaboration with world-renowned trichologists, bloggers, and curly hair stylists, we are able to incorporate science and knowledge into all of our products. This means we could create premium, gourmet haircare gentle enough for all curl types. From our strength range that works to reinforce hair to our moisture range that provides needed hydration to our scalp range that creates the best environment for your hair follicles, all your curly hair needs are covered at Curlsmith!